Working Papers
---
Global variation of the optimal temperature for outdoor activity
Most recent version: available upon request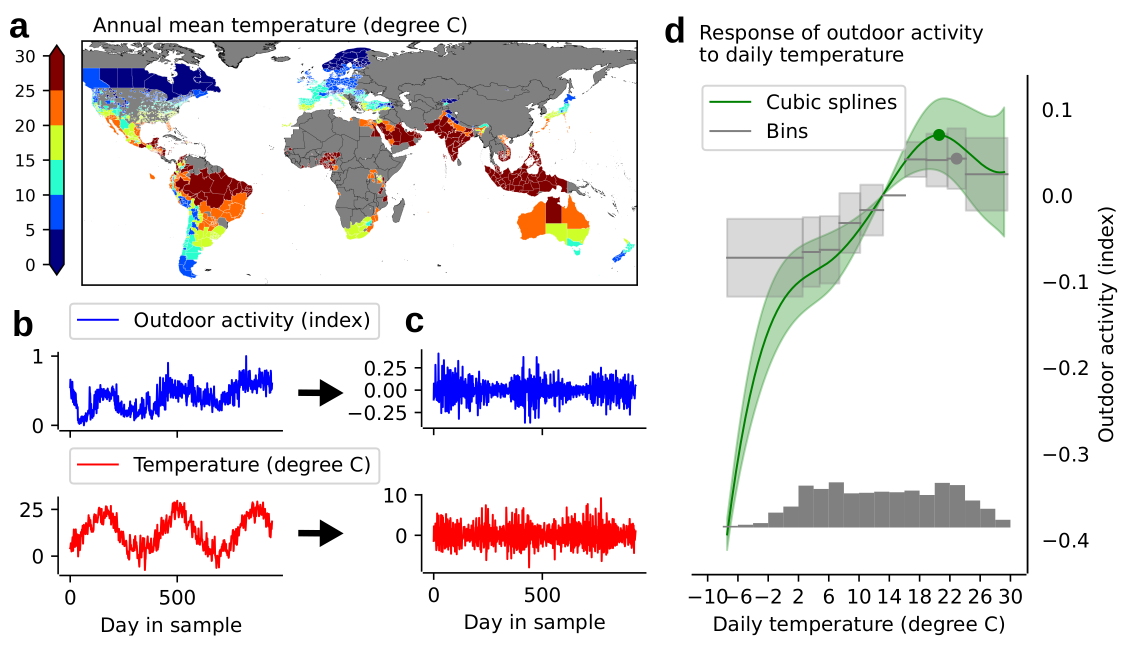 The impacts of climate change on human societies will depend on how well they adapt to higher temperatures. However, adaptation is difficult to measure and often not considered in climate change cost estimates. Here we examine whether people living in warmer countries prefer higher temperatures for outdoor activities. We analyze a unique dataset of mobile phone usage covering two and a half years and over 5000 locations across 130 countries. By exploiting quasi-random weather variations, we derive country-specific dose-response functions and identify the temperature levels at which outdoor activity peaks. We then investigate the relationship between these locally optimal temperatures and annual mean climate. Our findings suggest that while there is substantial adaptation to climatic conditions, it is only partial. Specifically, for every degree Celsius increase in annual mean temperature, the optimal temperature for outdoor activity increases by about 0.5 degrees Celsius.
---
The unequal global distribution of weather forecast accuracy
with Jeffrey Shrader
Most recent version: available upon request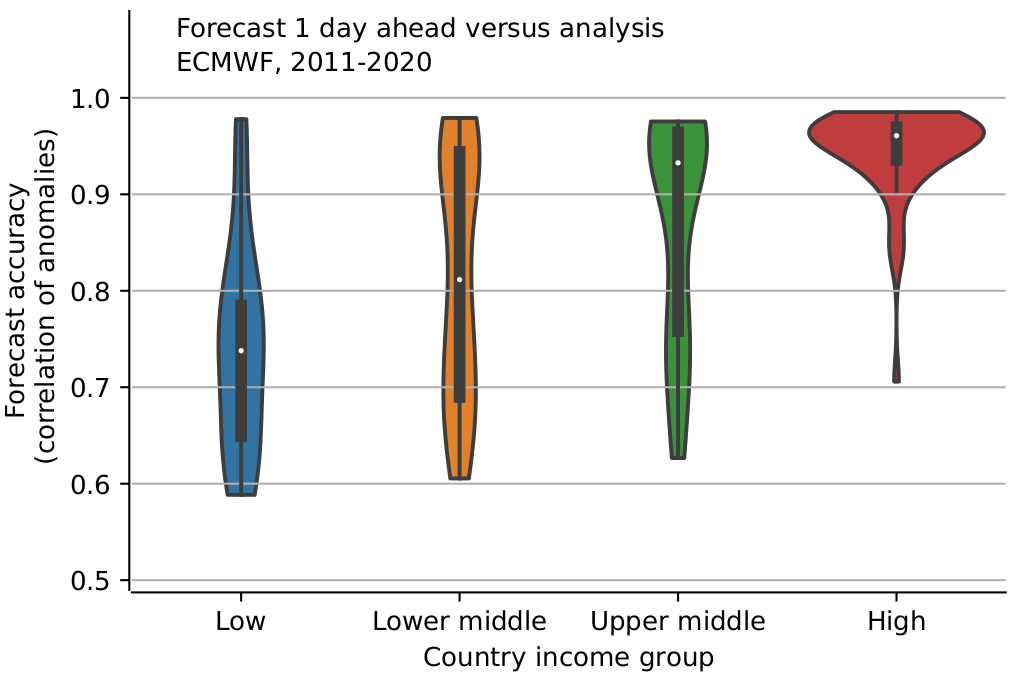 Global weather forecasts are of great economic value for society, but regional differences in forecast accuracy can create new and potentially exacerbate existing economic inequalities. Regional differences in forecast accuracy are particularly relevant if weather forecasts are considered as an important tool to reduce some of the negative effects of future climate change such as mortality from extreme temperature events. In this study, we provide a comprehensive global analysis of the accuracy of short-term temperature forecasts and relate our findings to existing economic inequalities and the role of the global infrastructure of weather stations. We find three main results: First, temperature forecasts are currently substantially more accurate in high income countries compared to low income countries. The average forecast accuracy for high-income countries is more than 25% higher than the average accuracy in low-income countries. Second, after a period of converging forecast quality during the late 1980s and 1990s, forecast accuracy has strongly diverged across countries in different income groups for the last two decades. This effect is largely driven by a rapid decline in forecast accuracy in low-income countries between the late 1990s and mid 2000s. Decline in quality and divergence across regions stands in sharp contrast to the average improvements in global forecast quality that have been witnessed in recent decades. Third, the difference in forecast quality is strongly correlated with differences in the density of weather stations - a piece of public infrastructure that exhibits high inequality across countries and which is an important input into forecasts.
---
Seasonal temperature variability and economic cycles
Most recent version: here
Published working paper: GRI Working Paper No. 374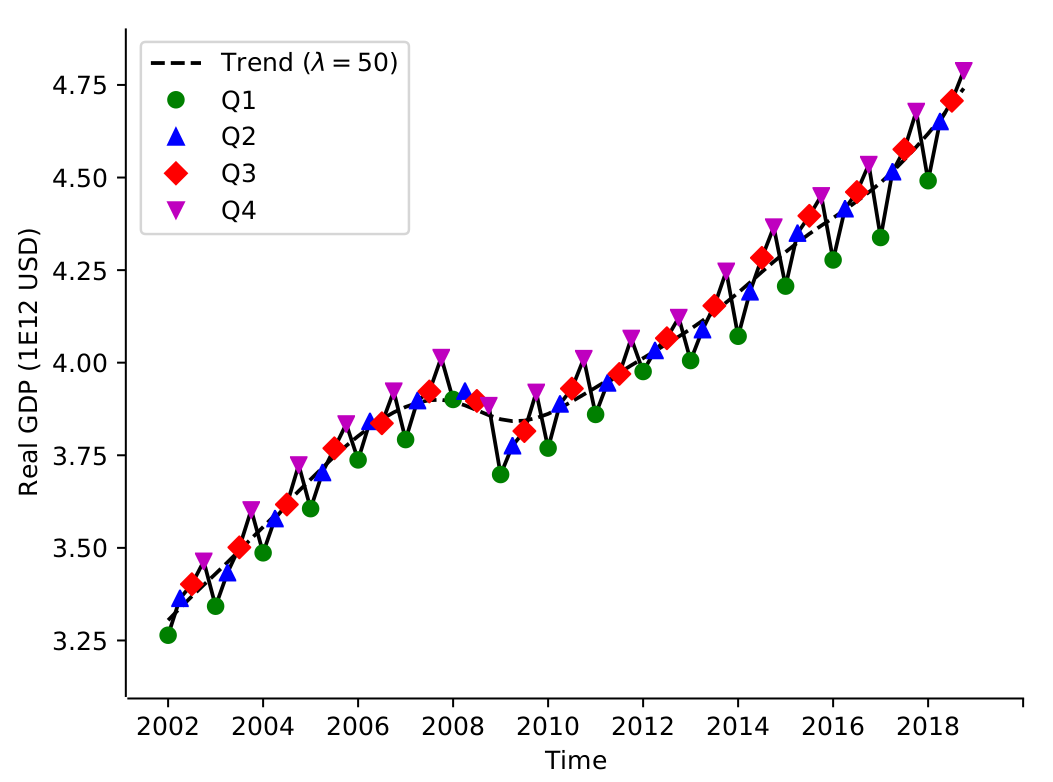 In this paper, we examine the role of temperature as a fundamental driver of seasonal economic cycles. We first construct a novel dataset of seasonal GDP and seasonal temperature for a sample of 81 countries. This dataset reveals a much larger diversity of seasonal economic cycles around the world than previously reported. We then attribute these economic cycles to variation in temperature. For identification, we propose and apply a novel econometric approach that accounts for expectations and is based on seasonal differences. The results suggest that seasonal temperature has a statistically significant positive effect on seasonal GDP. The effect appears large, as seasonal temperature can explain a substantial share of the variation in seasonal GDP. Using data on GVA for different industry groups we can attribute this effect to industries that are relatively more exposed to ambient temperature. Furthermore, the results suggest that economic development makes countries more resilient to seasonal temperature fluctuations. Regarding future anthropogenic climate change, the results suggest that changes to seasonal temperatures will lead to a reallocation of economic activity from one season to another similar in size to current seasonal economic cycles, pointing to a channel through which climate change will affect economic production that has so far been overlooked.
---
Some Like It Cold: The Persistent Cost of Higher Temperatures in European Economic Sectors
with Ben Groom and Sefi Roth
Most recent version: available upon request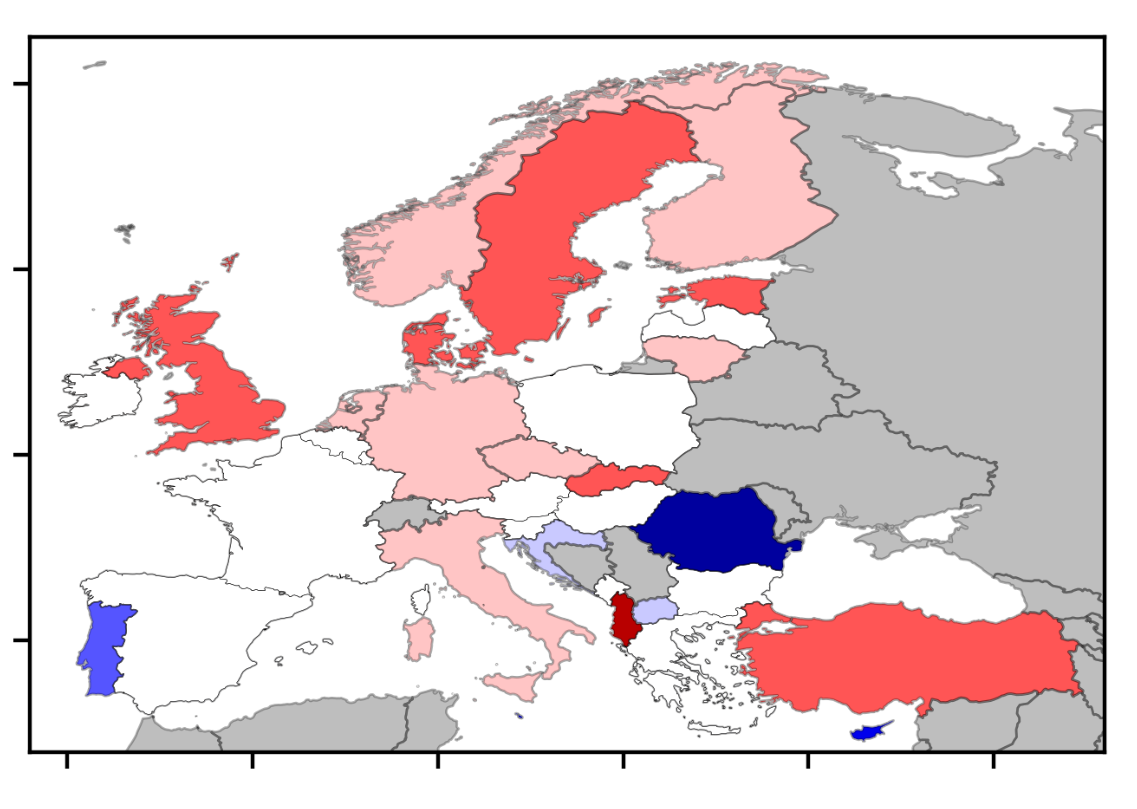 Econometric analysis of the global impact of temperature fluctuations on Gross Domestic Product (GDP) suggests a generalised coupled-climate-economy relationship in which higher temperatures harm warm countries, benefit cooler ones and an "optimal" temperature exists in between. However, aggregate temperature-GDP relationships reflect an average across different spatial scales and sectors of the economy, thereby masking any underlying heterogeneity. Ignoring such heterogeneity could misrepresent the overall costs or benefits of temperature change and provide misleading guidance for mitigation and adaptation policies. Focusing on Europe, we use administrative district level data on the growth rate of Gross-Value Added (GVA) and GDP to estimate the impact of temperature fluctuations on economic growth at the national level, the district level, and by industry. Unlike previous studies with a global focus, for Europe we find negative effects of warmer-than-average years on GVA and GDP in relatively cold districts. In warmer regions warmer-than-average years tend to increase economic output. Warmer temperatures only benefit extremely cold districts and are only costly to extremely warm districts. Disaggregating by economic sector, the negative temperature effect in cold countries stems primarily from the production of goods (e.g. agriculture and construction) not services. Disaggregating by district, the marginal temperature effects are highly heterogeneous, even within countries. Overall, our results invert the narrative that warmer than average temperature will be economically advantageous to colder regions, point to regional vulnerabilities stemming from specialisation, and suggest local temperature optima not a global one.